Granite Kitchen Countertops

Why choose Granite Kitchen Countertops? With a combination of stability and style, cooking in the kitchen has never been more enjoyable, especially with beautiful, high quality granite countertops. Say goodbye to your worries with spills, heat, scratches and stains and take your kitchen aesthetics to the next level. Payless Kitchen Cabinets offers a wide selection of beautiful granite kitchen countertops in Glendale, CA.
Granite Kitchen Countertops – Your Best Choice
One of the best choices for your kitchen is granite kitchen countertops. These counters are taken from stone blocks cut into individual slabs. Considered as the most popular natural stone countertop material, granite promotes durability and aesthetic appeal at the same time. Granite possesses a rich and timeless beauty, which improves a room's visual appearance. With many shades of granite available, find one that best complements your kitchen flooring, cabinets and décor. Our range of Payless Kitchen granite kitchen countertops comes in numerous colors and stone patterns to fit your kitchen and preferences. Apart from its visual appeal, granite is a strong natural stone, making it an ideal material for kitchen countertops. We design our kitchen countertops from durable materials to withstand the most demanding kitchen activities. Payless kitchen countertops are also scratch-resistant and endure typical wear and tear. In addition, granite countertops are heat-resistant. Being near gas ranges or cooktops does not affect granite's stability and quality, nor does it not sustain any damage if somebody sets down a hot pan on it. Most noteworthy is the durability and beauty of this gorgeous product to create your dream kitchen. Our countertops are easy to clean. Once properly sealed, they will not absorb liquids easily. Due to these qualities, your counters will continue to look as good in the future as they did on the day of their installation. To view the best way to maintain and properly take care of your beautiful granite countertops, we have made available our Maintenance page where you can search and find the answer on how to maintain your granite countertops. Our services do not stop at providing you with quality countertops. Payless Kitchen also offers Glendale CA granite countertop installation. Our team of professionals properly seals your countertops to maintain product integrity. As a result, you can rest assured your granite countertops are installed the right way.
Granite Countertops in your Dream Kitchen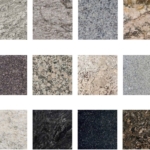 With their heat-resistant and durable qualities, granite countertops are favorable additions to your kitchen. These countertops have far more superior qualities compared to marble, laminate, and synthetic. Granite is also better-looking and possesses a beautiful, luminous quality when polished. Therefore granite counters are a popular choice in kitchens. For the best granite kitchen countertops in Glendale, CA, choose Payless Kitchen Cabinets. Call us now for a free consultation. We make the process of choosing the right products for your dream kitchen easy, by conveniently packaging pricing. Turn your dream kitchen into reality with us.
Alternatively, if you would rather choose something else, click here for other kitchen countertop choices.